Litman Gregory gives each employee an annual day off for volunteering. In effect, any of our employees who takes work hours to serve their community does so thanks to the support of their colleagues and our clients. In her annual year-end reflection, Managing Director Alice Lowenstein, CFP®, shares her experience as a volunteer. 
In August 2019, I traveled to a small city in my home state of Missouri to work with Remote Area Medical (RAM) as a general skills volunteer. RAM has a focused mission of preventing pain and alleviating suffering by offering free medical, dental, and vision care at temporary clinics held in underserved communities across the United States and internationally. People who need care usually begin arriving at midnight hoping for an early spot in the line-up for services starting at 6 a.m. Many have driven far, often with children and elderly packed in the car. Everything provided by RAM is completely free with no requirements of an address, a job, insurance, or anything other than a human need for care.
You can imagine how powerfully moving it was to work with the patients and the 100% volunteer health care providers. It was also at times sad, funny, hard, and joyous.
I particularly remember two brothers, under age 7, who came to the clinic with their mother and baby sister. I had been assigned to help people choose eyeglass frames that in most cases could be produced on-site with a customized prescription. The boys were there to get outfitted. One was so excited to have glasses. The other was having none of it. He and I looked at pair after pair until he grudgingly accepted a white plastic frame he liked. Then later that day I saw him proudly walking around—now able to see clearly—with his brand-new glasses. In fact, he came back suggesting with a smile that maybe he should have a second pair.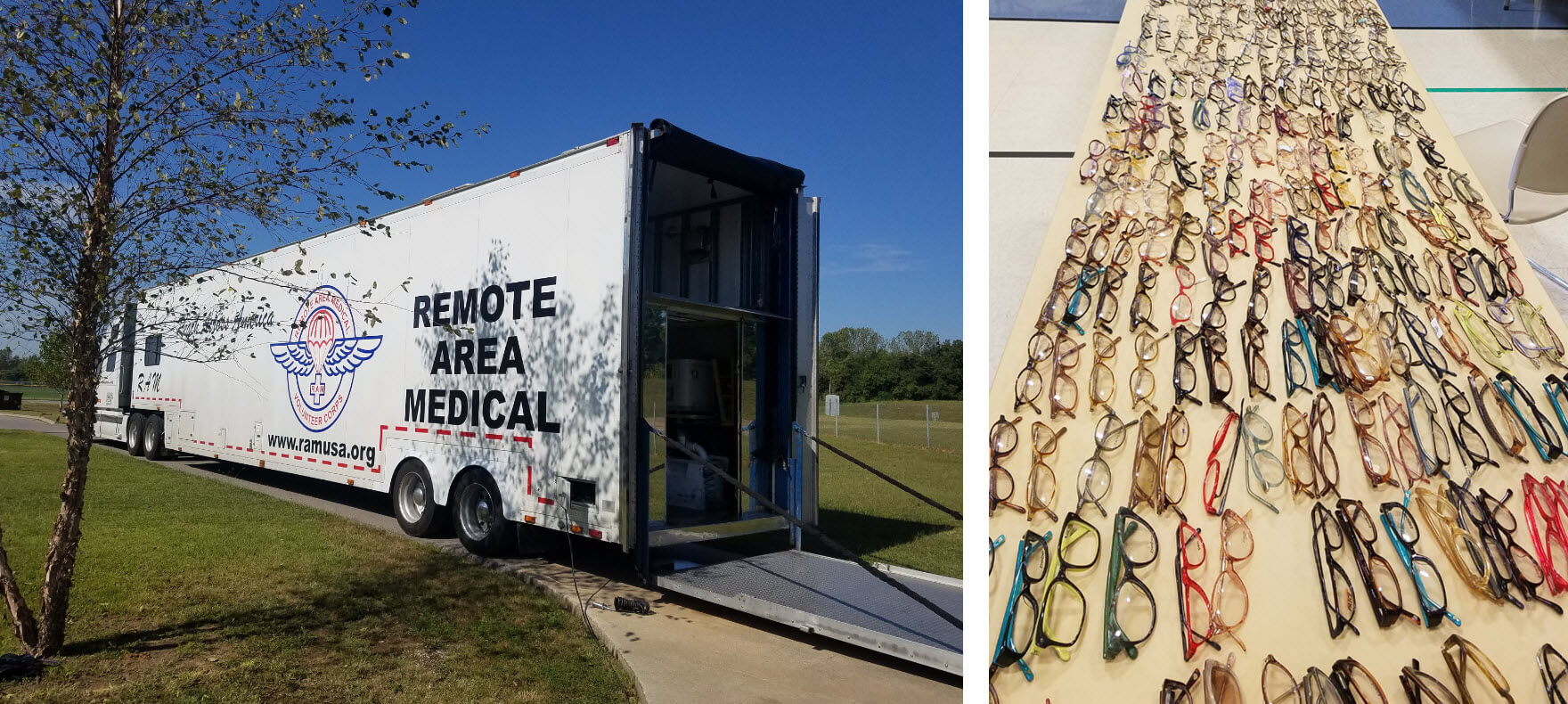 During the three days I spent with RAM I also cleaned equipment, entered data, taped down yards of electrical cords so no one would trip, and more. Throughout the experience, I thought often about my colleagues back in California and our clients who in essence were there alongside me thanks to their support and loyalty. You see I was able to join RAM for this work thanks to Litman Gregory's "Day to Give Back" that we provide to everyone at our firm.
I also thought of our co-founders Ken and Craig who built a values-based organization with total dedication to our clients alongside true care for our team and our community. Today at Litman Gregory, volunteer time-off is one aspect of our community engagement. We have been proud to support local organizations, including SHELTER, Inc. and Compass Family Services, and through our matching program contribute funds to the causes our employees support individually. All this is possible because of our clients, whose partnership and countless examples of personal and family generosity continue to inspire us.
It has been an eventful year that was rewarding to investors, giving many of us much to be thankful for and perhaps a little more room to connect with the broader world through our own commitment of time or finances. On behalf of everyone at Litman Gregory, I wish our clients and friends a peaceful and prosperous year that affords many opportunities to connect with those you care about and the common bonds that unite us all.
—Alice Lowenstein, CFP®, Principal, Managing Director