In March, we saw extraordinary turbulence across the bond market triggered by growing uncertainty surrounding the economic impact of COVID-19, as well as subsequent selling pressure. This turbulence eventually reached all corners of the bond market. The market stress subsided some in the last week or so of March and into April. But bond prices in many areas indicate the potential for strong long-term returns from here.
It's important to first note that the bond market is much more heterogenous than the global equity market. It is really a collection of sectors with sometimes markedly different sensitivities to default risk and interest rate changes. Not all bonds are created equal. Some areas, like U.S. Treasuries, are government-guaranteed to be paid back, though their prices are generally the most sensitive to interest rates. These typically perform well when stocks do poorly/rates are falling. Whereas bonds in the "credit market," which are mostly loans to businesses, have credit risk—there is always the potential that they may not be paid back. The riskier the loans, the more correlated their prices will be with stocks. And this correlation only increases in a crisis.
Timeline of the Liquidity Crunch
Initially, as COVID-19 spread and states began to implement lockdowns, investors fled the riskier parts of the bond market (high-yield bonds, floating-rate loans, collateralized loan obligations). But the headlines eventually caught up to the higher-quality segments that had shown some resilience (investment-grade corporate bonds, mortgage-backed securities). At its peak, even the U.S. Treasury market, which consists of what are usually some of the most tradeable securities in the world, was showing dysfunction.
The New Income team at First Pacific Advisors noted on a recent conference call that there was forced selling in higher-quality segments as managers were getting outflows and did not want to sell their higher-yield credit-sensitive holdings first. The unwinding of leveraged funds including closed-end-funds, sales by hedge funds that were sharply reducing exposures, and mutual funds selling to meet redemptions in a period of poor liquidity resulted in extreme dislocations. Investors wanted out. Their exit was swift and indiscriminate as investors scrambled for cash.
Traditionally defensive assets classes such as municipal bonds and investment-grade corporates saw record levels of mutual fund outflows, while yields on one- and three-month Treasuries briefly went negative. Amid the rush for the exits, Paul Harrison of DCI Investments in mid-March said, "Credit markets are disorderly right now, with high bid/offer [spreads], low liquidity, and often incoherent pricing." He later added, "It would be difficult to overstate how broken credit markets were for the four or five days from last Wednesday (March 18) through Monday (March 23)."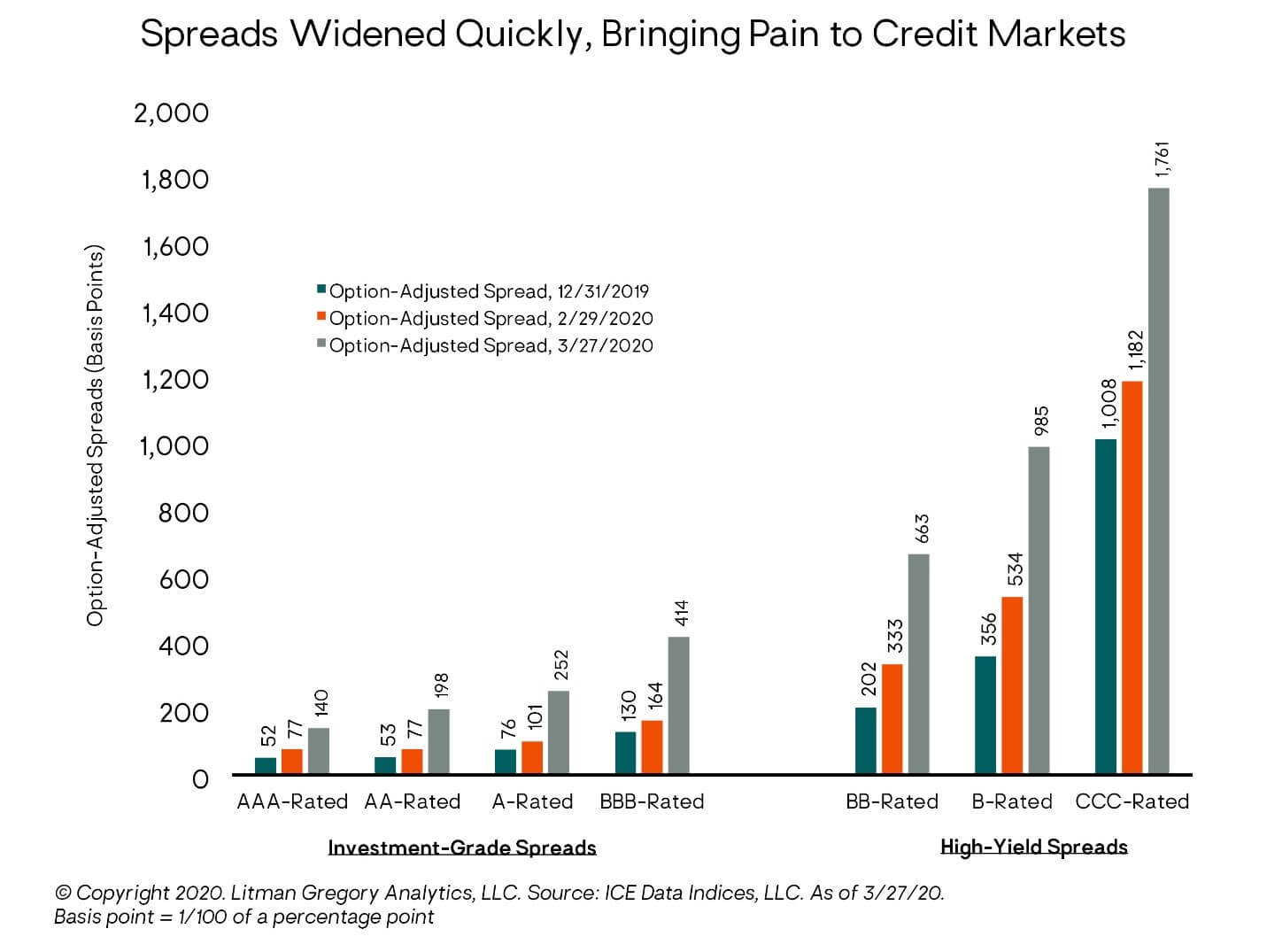 Stress also extended to short-duration, high-quality assets. Under normal conditions, shorter-term bonds are lower risk because investors have clarity into whether or not the issuer has the funds to pay them off at maturity. This came into question for bonds that were potentially coming due amidst a global economic shutdown. Investors even began to worry about prime money market funds, muni money market funds, and other cash equivalents.
As shown in the chart, credit spreads across the ratings-quality spectrum quickly widened and no segment was spared.
The Fed's Swift and Forceful Response
With volatility reaching extreme levels, governments and central banks across the globe have responded fast and forcefully. They have been seemingly willing to do "whatever it takes" to prevent a financial crisis from happening again. In the hopes of stabilizing markets and ultimately the economy, the Federal Reserve announced comprehensive measures to unfreeze the financial markets and narrow spreads, including near-zero policy rates, a promise to buy as many Treasury bonds and agency (government-backed) mortgage-backed securities as it deems necessary, an unprecedented program to buy investment-grade corporate bonds, and a deeper move in the municipal bond market. The Fed also provided a backstop to support the money markets.
How Our Portfolio Fixed-Income Holdings Were Positioned
Heading into the selloff, most fixed-income managers we've invested with in client portfolios were positioned conservatively. For several months, if not longer, they had believed valuations were unattractive and had been unwilling to take on more risk for incrementally higher returns. In the third quarter of last year, Guggenheim Investments wrote, "We do not think the current rally in risk assets is sustainable. Credit spreads could get tighter in this liquidity-driven rally, but history has shown that the potential for [lower prices] from here is much greater."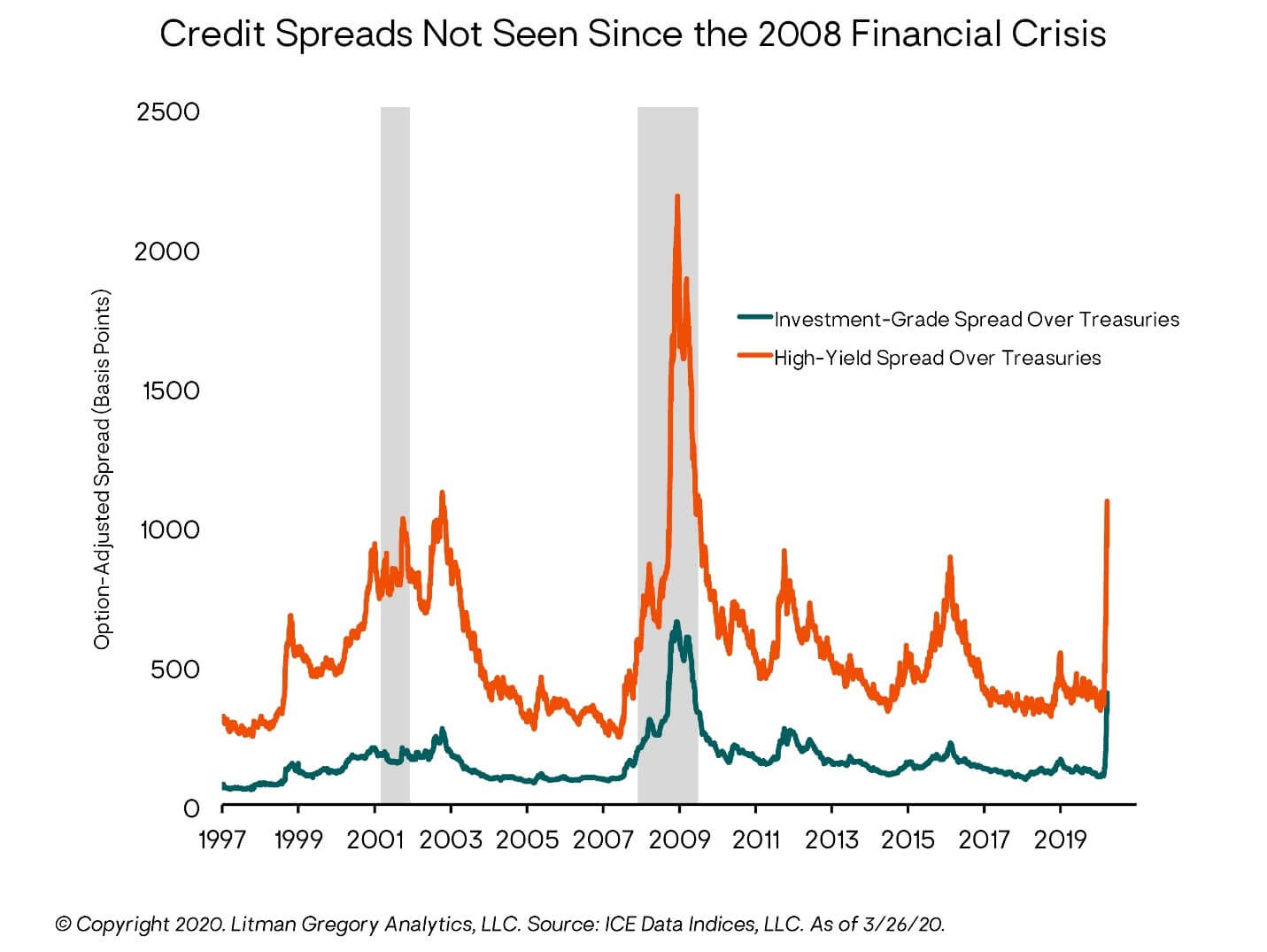 Instead Guggenheim and others chose to steadily increase exposure to high-quality, short-term bonds in hopes of protecting performance during an eventual market decline. Many also held elevated levels of cash to be ready to buy opportunistically during periods of market volatility. For example, the Osterweis Strategic Income team entered 2020 with a defensive position including shorter-dated, higher-quality credits and a healthy allocation to cash and cash alternatives. As many of the high-yield ETFs were experiencing redemptions and were forced to sell, they began nibbling. As selling intensified, they moved from defense to offense as spreads widened and yields became very attractive on absolute, relative, and risk-adjusted bases. They are seeing attractive opportunities in longer-dated bonds issued with coupons that were too low in their judgment a few years ago. Those bonds are now trading at significant discounts and compelling yields due to this selloff.
Despite conservative positioning, most of our funds still suffered declines amid the indiscriminate selling. Importantly, these declines are the result of marked-to-market pricing losses. Prices of funds' bond holdings were lowered because the values of the bonds owned were quoted lower, not because of a permanent loss of capital. Ultimately, in what we believe to be the vast majority of cases, it is a short-term price hit and not a permanent capital loss.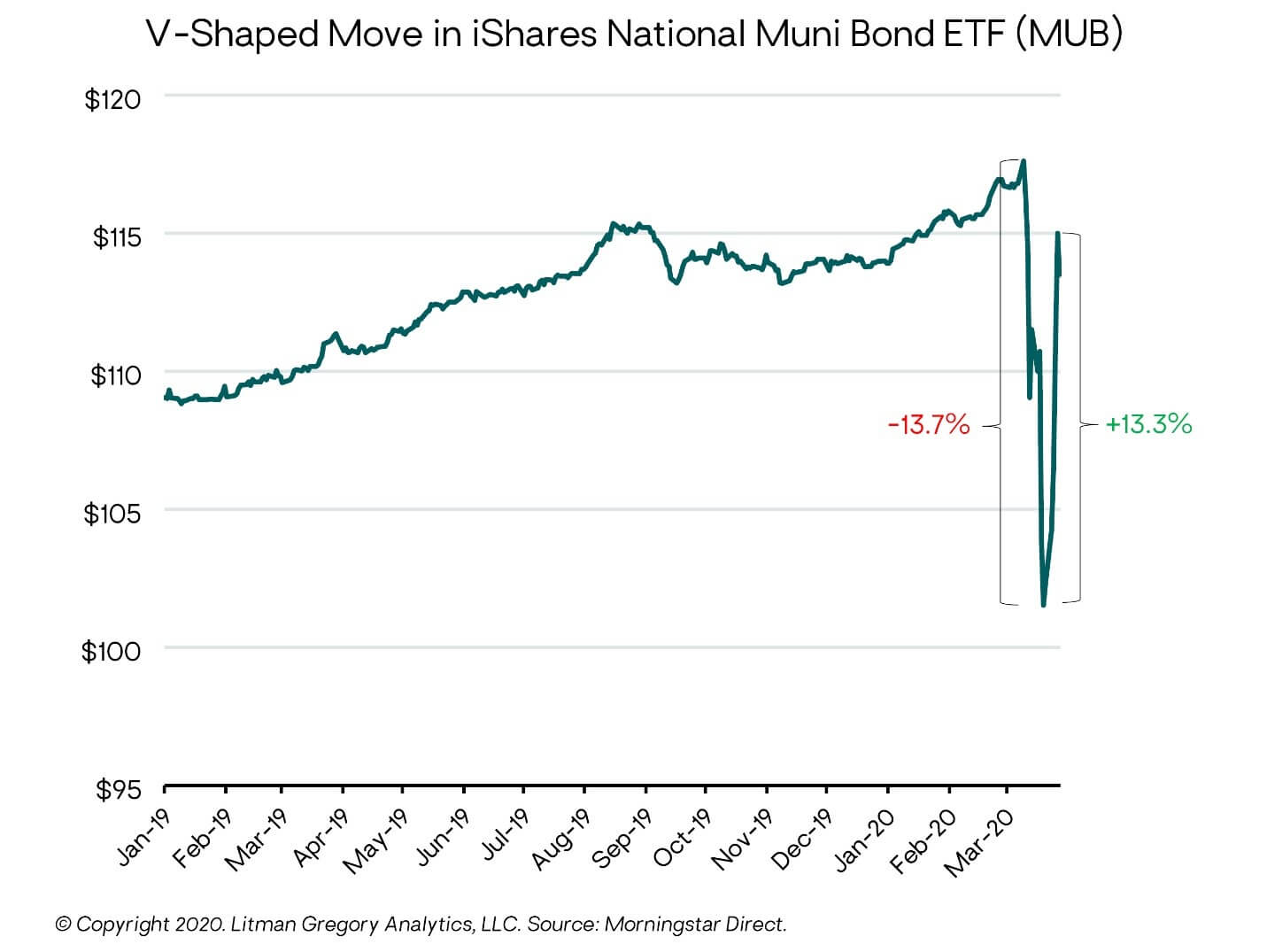 Looking Forward: Exciting Buying Opportunities
There is some reason for optimism as we have seen some market segments snap back following Fed intervention. Below is a price chart of a large municipal bond ETF, where the price swing is nothing short of dramatic. In just a few days, the muni ETF fell to 2013 levels and then snapped back to its beginning of the year price.
And in other parts of the market, we are also seeing prices firming. In the high-yield market, for example, spreads (relative to Treasuries) narrowed nearly 200 basis points in the second-to-last week of March.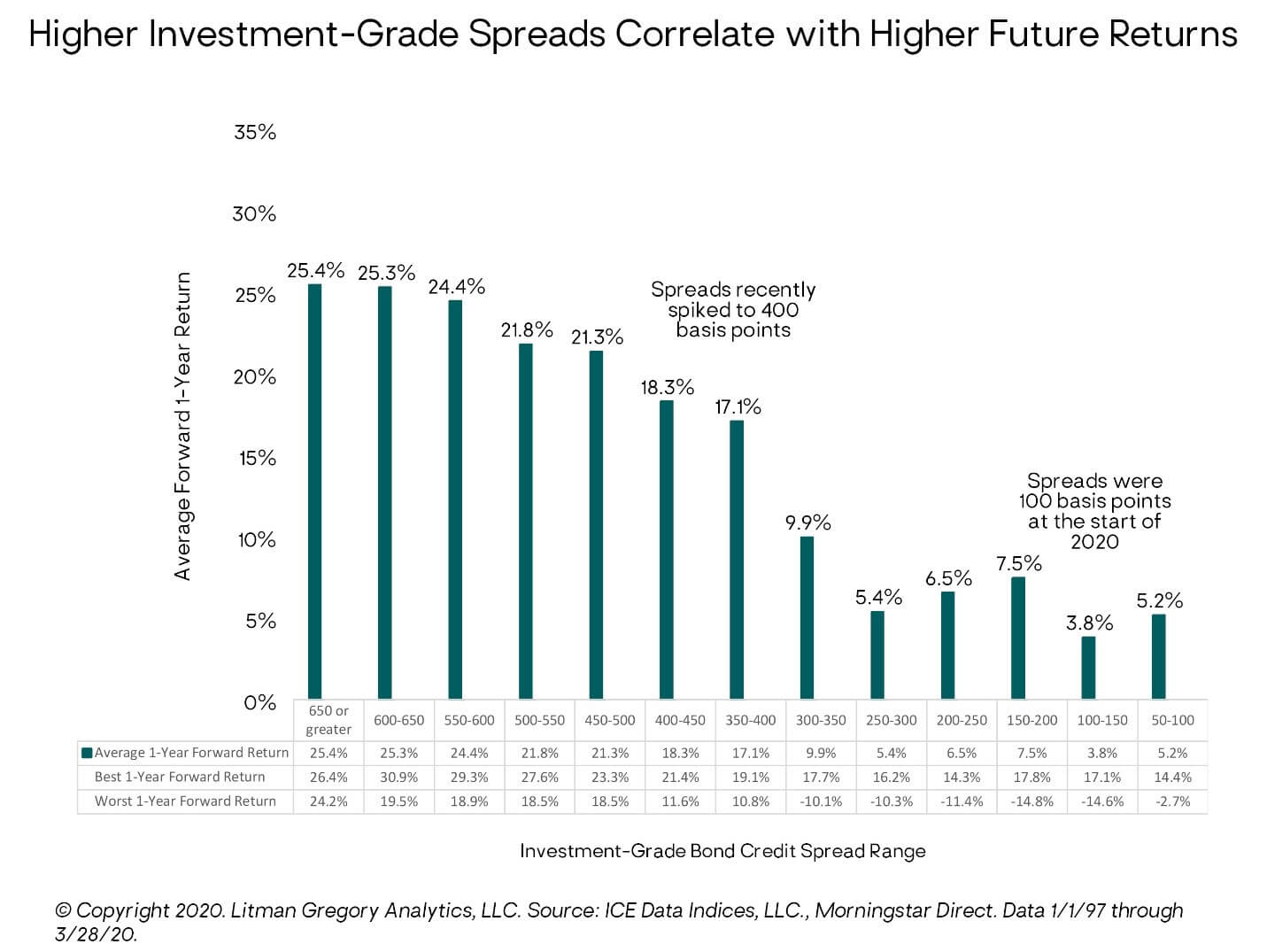 Over the longer run, this is likely to be an excellent entry point for investors. While past performance is no guarantee of future returns, declines like this in the past have been followed by substantial excess returns once investors began to gain a clearer view of the future.
Our selected fixed-income managers remain deliberate about putting cash to work. They continue to look for attractive opportunities to add exposure to companies with strong balance sheets and securitized credit structures that are able to withstand a prolonged downturn, trading at attractive valuations. And while we cannot call the bottom, what we do know is that for investors who have a longer time horizon, the return potential for the bond market is looking much more attractive, although we know it's important to pick your spots prudently. We believe the active fixed-income managers we invest with, experienced and tested through prior market dislocations, are positioned to do that successfully.
—Jack Chee (4/7/20)
The information contained herein does not provide investment advice, should not be construed as personalized investment advice and is not an offer to sell a security or a solicitation of an offer, or a recommendation, to buy or sell a security. The statements, information, and opinions contained herein are solely those of Litman Gregory Asset Management, LLC and are subject to change without notice. There is no agreement or understanding that Litman Gregory Asset Management, LLC will provide individual advice to any investor or advisor client in receipt of this document. Investments in securities involve the risk of loss and may not be suitable for all investors. past performance is no guarantee of future results. For additional information about Litman Gregory Asset Management, LLC please consult the Firm's Form ADV disclosure documents, the most recent versions of which are available on the SEC's Investment Adviser Public Disclosure website (www.adviserinfo.sec.gov) and may otherwise be made available upon written request.