In addition to acting as our institutional clients' Outsourced Chief Investment Officer, we offer broader expertise on the fiduciary best practices that support board and investment committee productivity and effectiveness. Good governance is the foundation for achieving intended investment outcomes (and fostering a positive group experience for the members).
As fiduciaries, nonprofit boards and committees safeguard their organizations' financial ability to execute on their mission. The most reliable way to deliver on this mandate is to start with well-defined and consistently implemented policies and practices. Committees are always well-intentioned, but their job can be challenging (for a variety of reasons including financial pressures, organizational change, or even personalities with outsized impact on group dynamics). Our role has the advantage of offering an independent perspective, which can help our clients identify and work through any issues that impede the board's functioning.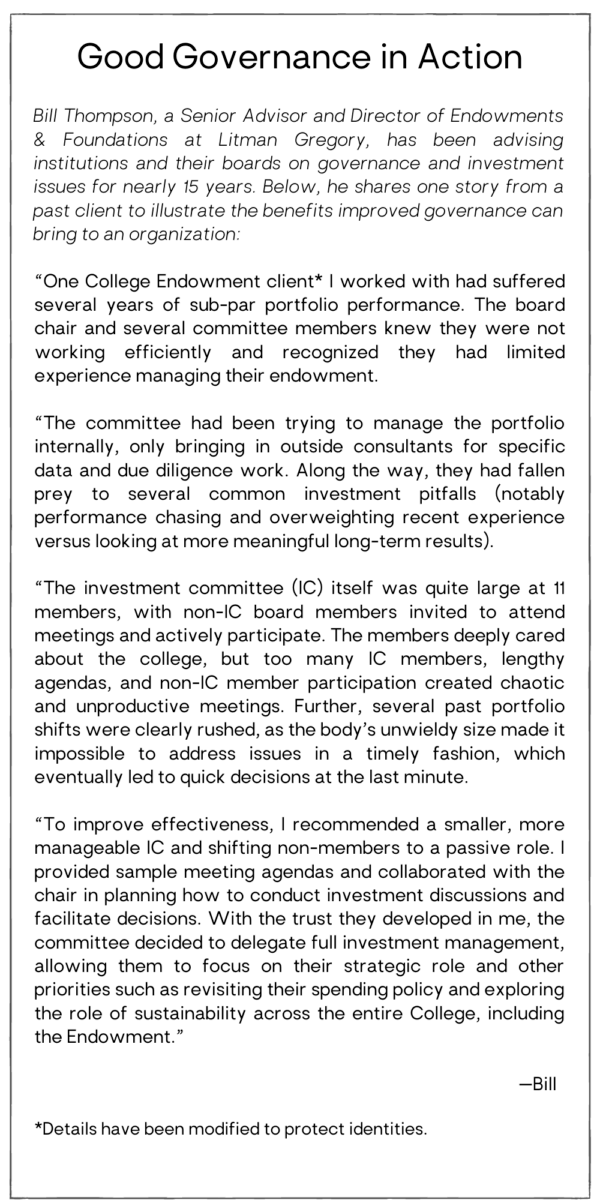 Long-term success in executing a board or investment committee's fiduciary responsibility comes down to strong leadership, thoughtful committee design, good processes, and ultimately, finding a partner you trust to provide expert advice. Here are a few of the essential governance best practices that we believe help boards and committees fulfill their mandate.
Strong Leadership
Good institutional decision making begins at the top. A few simple practices can make a significant difference in how the process operates. Successful and effective board or committee chairs manage well-run meetings. When agendas are clear and objectives are set beforehand, time is not wasted. They refrain from dictating. Instead, they foster open discussion and ensure less-outgoing members can express their opinions. At the same time, they keep the committee on track and focused on the issues at hand.
Committee Design
Ultimately, a high-functioning board or investment committee is the result of its members and how they work together. It's valuable to include those with institutional investment experience. However, members should also come from fields outside of investment and finance so the organization can benefit from a diverse mix of perspectives.
The number of members is another important consideration. With each additional member the diversity of views may increase, but any one individual's contribution declines and group dynamics become rapidly more complex. Reaching final decisions or consensus can be difficult in large groups. So we often help our clients assess the tradeoff between diversity of opinion and productivity.
Choosing tenure and term-length policies requires careful thought. When we've worked with committees with a high level of continuity over time, we've seen a greater degree of institutional memory and a group with the necessary context to make good long-term decisions. We believe it's important to find the most appropriate balance for your institution, where term lengths are long enough to maintain a level of consistency, yet short enough to avoid complacency. In addition, staggering the turnover can increase the chance of creating a cohesive team, and reasonable term limits can prevent entrenchment.
People and Processes
Personalities play a role in how the board or committee functions and what it achieves. In our experience, the best members are those who are humble, patient, and comfortable with uncertainty. We encourage our clients to look for committed, team-oriented knowledge-seekers. The skills investing requires can be very different from those successful professionals in other fields use in their day-to-day work. Financial markets can be counterintuitive, move in long-term cycles, and often reward contrarian thinking.
When it comes to processes, the organization itself sets the tone, ideally by emphasizing clarity in responsibilities and reporting structure and by creating a culture of open communication. This includes defining the responsibilities and duties of the board, individual board committees, and any special subcommittees. Meeting notes are critical to document discussions and memorialize decisions.
Supporting the Organization
Boards and committees exist to protect and grow their organizations' financial assets—a great responsibility. In the end, the goal is to establish processes and a structure that maximize the institution's probability of delivering on its stated mission. An objective perspective from a trusted partner can bolster and enhance the ability to do so.
Please contact us to learn more about our services for endowments and foundations.
bill.thompson@lgam.com | 415.461.8999
LGAM is an SEC registered investment adviser with its principal place of business in the state of California. LGAM and its representatives are in compliance with the current registration and notice filing requirements imposed upon registered investment advisers by those states in which LGAM maintains clients. LGAM may only transact business in those states in which it is noticed filed, or qualifies for an exemption or exclusion from notice filing requirements. Any subsequent, direct communication by LGAM with a prospective client shall be conducted by a representative that is either registered or qualifies for an exemption or exclusion from registration in the state where the prospective client resides. For information pertaining to the registration status of LGAM, please contact LGAM or refer to the investment adviser public disclosure web site (www.adviserinfo.sec.gov). For additional information about LGAM, including fees and services, send for our disclosure brochure as set forth on Form ADV using the contact information herein.
The scenario identified and described herein does not represent all of the governance oversight initiatives engaged by LGAM. The reader should not assume that engaging LGAM for governance services will be similar to the instance described herein.