As we all know from news headlines, global stock markets have now entered a "bear" market, having declined more than 20% from recent highs. As of Thursday, March 12, U.S. stocks had declined over 26% from their high point on February 19. And markets have remained extremely volatile since then. In our recent market update, "Separating Emotion from Action," we referenced a famous quote from value investor Warren Buffett: "Be greedy when others are fearful." Historically, this has been a very good investment mantra to have.  
In Litman Gregory's 30-plus years, we've been through several crises and stock market declines. From experience, we know the best time to stick to your investment discipline and buy is usually when you feel fearful but your analysis suggests the likelihood of a strongly favorable medium- to longer-term outcome is very good, as we believe is true today.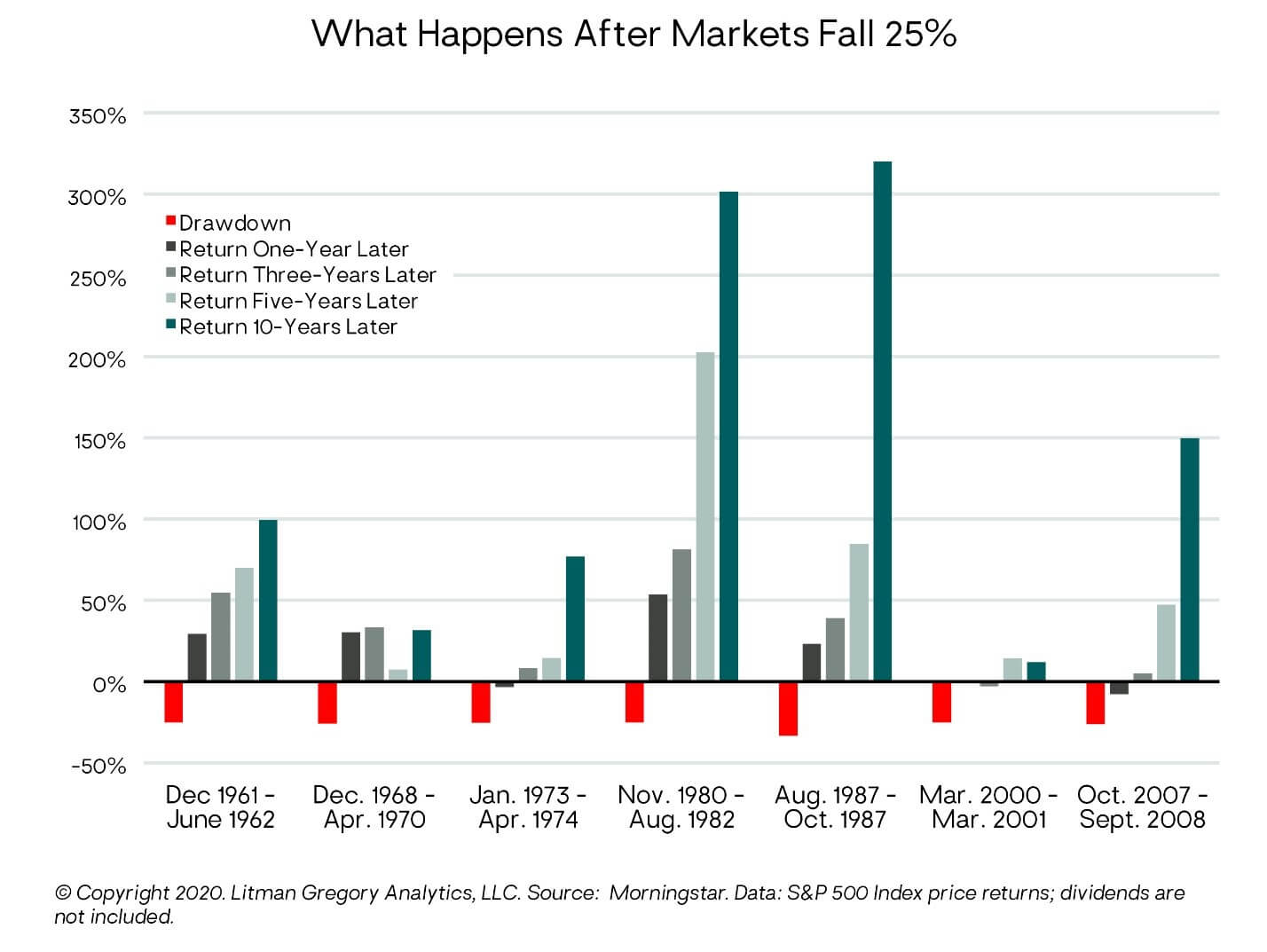 A 25% or greater drawdown in U.S. stocks is quite infrequent. It's happened only eight times in the past 70 years. But such painful periods do happen. And as we've often said, investors in equities need to be emotionally and financially prepared for them. And the longer-term returns are worth the short-term discomfort. Since 1950, buying U.S. stocks after the initial 25% decline of a bear market—as we are doing in a prudent, incremental fashion for clients in this downturn—delivered strong returns over the next five or 10 years most of the time.
Given that the main catalyst for this downturn is the coronavirus (alongside an unexpected oil price war) and that there is an end game for the virus at some point, it seems reasonable that markets will rally when virus news turns incrementally positive (the spread slows, new cases stabilize or drop, treatments or vaccines are developed, etc.). But even if this bear market lasts longer than the historical average of 18 months, potential forward-looking U.S. stock returns have already improved. And they will get even better the lower stocks go. Because we entered this crisis underweight to U.S. stocks, we have the flexibility now to add back to and even overweight them if the selloff deepens. Even after our first incremental purchases, we are still underweight to U.S. stocks. 
So while it may be hard to imagine now, there will be an end point to this crisis from a medical perspective and thus from an economic and financial markets perspective. Of that, we think we can be confident. The key to overcoming panic in financial markets is to focus on the future. Remember, severe losses only become permanent losses if you sell, go to cash, and lock them in. Volatility is uncomfortable when you're living through it, but it sows the seed of the future's strong returns.  
With all this said, we recognize that it is natural to be concerned when volatile markets impact your portfolio holdings. For that reason, we encourage you to connect with your Litman Gregory Advisor to discuss any questions you have about your situation and portfolio. We are here for you and appreciate the trust you place in us to be your guide through the everchanging financial market environment. 
This newsletter is limited to
the dissemination of general information pertaining to Litman Gregory Asset Management, LLC (
"
LGAM
"
), including information about LGAM
'
s investment advisory services, investment philosophy, and general economic market conditions. This communication contains general information that is not suitable for everyone. The information contained herein should not be construed as personalized investment advice, and should not be considered as a solicitation to buy or sell any security or engage in a
particular investment
strategy. Nothing herein should be construed as legal or tax advice, and you should consult with a qualified attorney or tax professional before taking any action. Information presented herein is subject to change without notice. Past performance is no guarantee of future results, and there is
no guarantee that the views and opinions expressed in this newsletter will come to pass. Individual client needs, asset allocations, and investment strategies differ based on a variety of factors. Any reference to a market index is included for illustrative purposes only, as it is not possible to directly invest in an index. Indices are unmanaged, hypothetical vehicles that serve as market indicators and do not account for the deduction of management feeds or transaction costs generally associated with investable products, which otherwise have the effect of reducing the performance of an actual investment portfolio.
LGAM is an SEC registered investment adviser with its principal place of business in the state of California. LGAM and its representatives
are in compliance with
the current registration and notice filing requirements imposed upon registered investment advisers by those states in which LGAM maintains clients. LGAM may only transact business in those states in which it is noticed filed, or qualifies for an exemption or exclusion from notice filing requirements. Any subsequent, direct communication by LGAM with a prospective client shall be conducted by a representative that is either registered or qualifies for an exemption or exclusion from registration in the state where the prospective client resides. For information pertaining to the registration status of LGAM, please contact LGAM or refer to the investment adviser public disclosure web site (www.adviserinfo.sec.gov). For additional information about LGAM, including fees and services, send for our disclosure brochure as set forth on Form ADV using the contact information herein.