At Litman Gregory, our research team is always on the search for more for our clients.  Sometimes that means more return, and sometimes more safety, but it often means searching for solutions that aren't readily available through traditional options.
In this era of historically low yields and interest rates, and therefore corresponding high prices of bonds, our current quest is to find higher income, without adding to the overall risk in our clients' portfolios.  Because we see higher risk to bond prices from rising interest rates, our research team believes that this is indeed a challenging environment for investors in the traditional fixed income markets.
We've already addressed some of this challenge by replacing part of the traditional fixed income in our portfolio with bond managers who specialize in less traditional areas of the fixed income markets including short-maturity high yield bonds and "floating-rate notes." These tactical shifts helped us with this quest for better yields and lower risk during rising interest rates, while producing returns that outperformed the overall "core" bond market.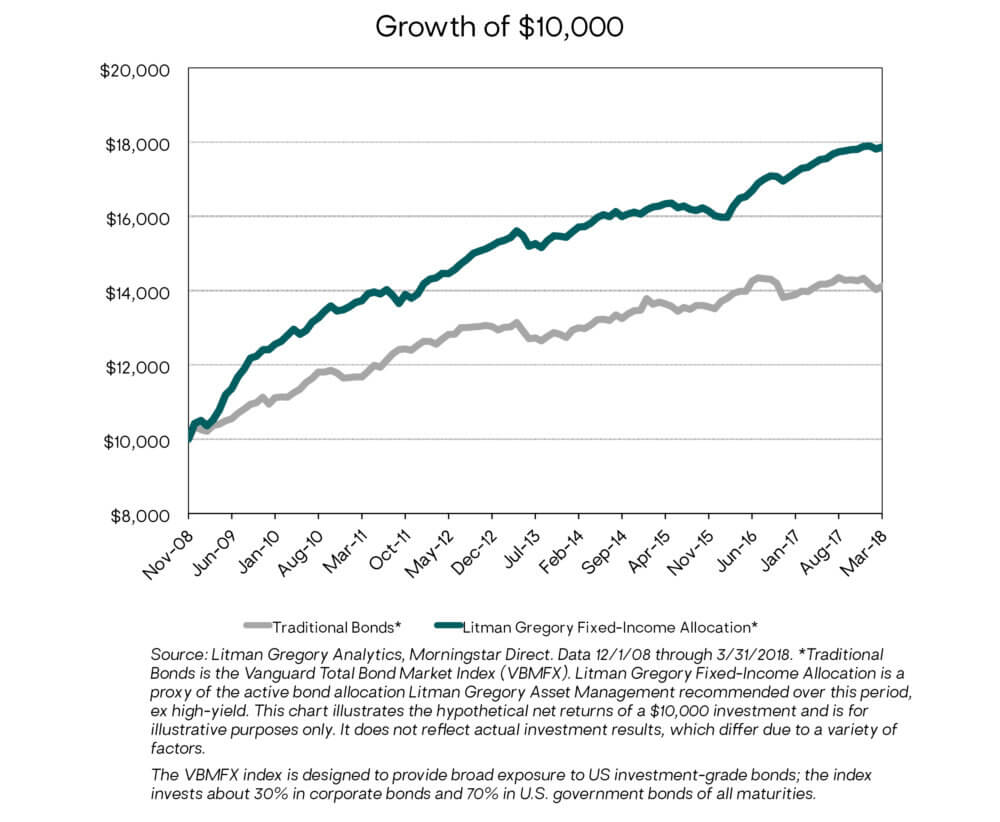 This year, we're building an even more compelling way to include income strategies for our clients, using investment managers who can go beyond traditional core investment-grade bonds.  Through their expertise in less-well-known areas of the fixed income market, they are able to run strategies that provide alternative sources of income that many investors are less likely to buy on their own. These managers generate higher income while still keeping an eye on preservation – an important characteristic in our portfolios, because we use fixed income in part as a safety net during stock market declines (and for this reason we will always own core bonds as well).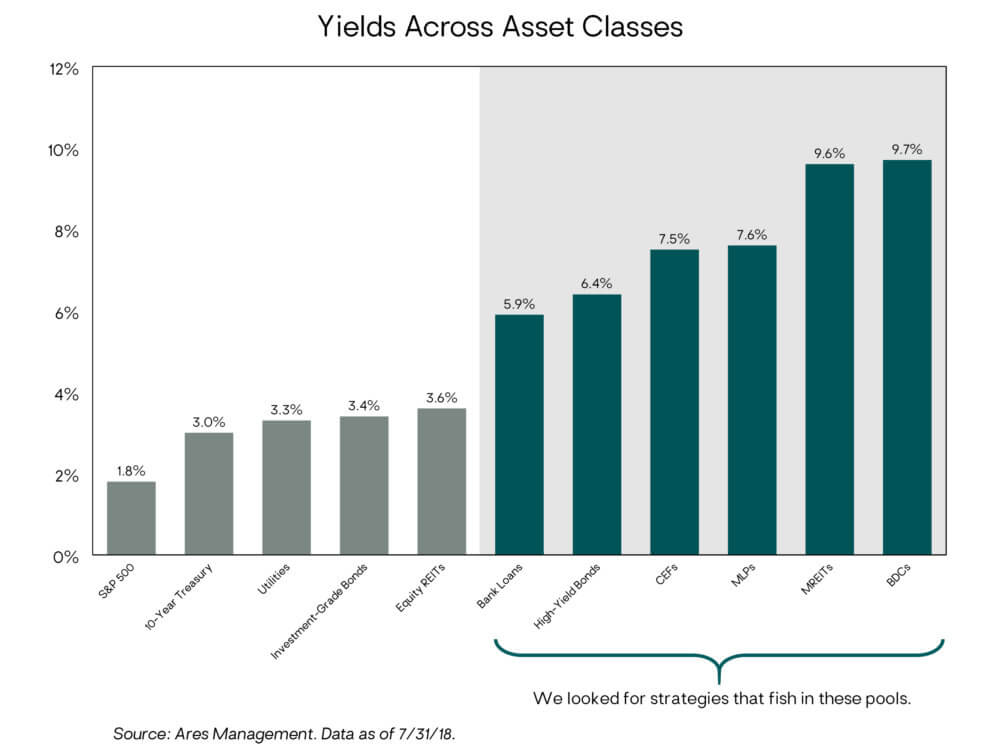 We narrowed our selection to four managers, each of whom has a strategy for identifying attractive income/return-generating securities generally in less traditional and/or less efficient areas of the financial markets.  This can include specialized areas of bond market such as asset backed securities, floating rate loans and structured finance investments, but also other areas like mortgage REITs, business development corporations, convertible & preferred securities, and option-writing strategies. As a collective, we believe these managers will add beneficial diversification, and higher income, to complement the more traditional bonds in our clients' portfolios.
Each client's situation is different, so we are careful to consider individual needs and goals when we add new investments like these. But for the fixed income portion of all the portfolios we manage, we believe there is a strong role for these strategies in generating higher income while helping protect from the risk of rising interest rates.
If you would like to discuss how we would add these non-traditional income securities into your portfolio, please talk with your Litman Gregory Wealth Advisor about your own quest for income.
THIS NEWSLETTER IS LIMITED TO THE DISSEMINATION OF GENERAL INFORMATION PERTAINING TO LITMAN GREGORY ASSET MANAGEMENT, LLC ("LGAM"), INCLUDING INFORMATION ABOUT LGAM'S INVESTMENT ADVISORY SERVICES, INVESTMENT PHILOSOPHY, AND GENERAL ECONOMIC MARKET CONDITIONS. THIS COMMUNICATION CONTAINS GENERAL INFORMATION THAT IS NOT SUITABLE FOR EVERYONE. THE INFORMATION CONTAINED HEREIN SHOULD NOT BE CONSTRUED AS PERSONALIZED INVESTMENT ADVICE, AND SHOULD NOT BE CONSIDERED AS A SOLICITATION TO BUY OR SELL ANY SECURITY OR ENGAGE IN A PARTICULAR INVESTMENT STRATEGY. NOTHING HEREIN SHOULD BE CONSTRUED AS LEGAL OR TAX ADVICE, AND YOU SHOULD CONSULT WITH A QUALIFIED ATTORNEY OR TAX PROFESSIONAL BEFORE TAKING ANY ACTION. INFORMATION PRESENTED HEREIN IS SUBJECT TO CHANGE WITHOUT NOTICE. PAST PERFORMANCE IS NO GUARANTEE OF FUTURE RESULTS, AND THERE IS NO GUARANTEE THAT THE VIEWS AND OPINIONS EXPRESSED IN THIS NEWSLETTER WILL COME TO PASS. INDIVIDUAL CLIENT NEEDS, ASSET ALLOCATIONS, AND INVESTMENT STRATEGIES DIFFER BASED ON A VARIETY OF FACTORS. ANY REFERENCE TO A MARKET INDEX IS INCLUDED FOR ILLUSTRATIVE PURPOSES ONLY, AS IT IS NOT POSSIBLE TO DIRECTLY INVEST IN AN INDEX. INDICES ARE UNMANAGED, HYPOTHETICAL VEHICLES THAT SERVE AS MARKET INDICATORS AND DO NOT ACCOUNT FOR THE DEDUCTION OF MANAGEMENT FEEDS OR TRANSACTION COSTS GENERALLY ASSOCIATED WITH INVESTABLE PRODUCTS, WHICH OTHERWISE HAVE THE EFFECT OF REDUCING THE PERFORMANCE OF AN ACTUAL INVESTMENT PORTFOLIO.
 LGAM IS AN SEC REGISTERED INVESTMENT ADVISER WITH ITS PRINCIPAL PLACE OF BUSINESS IN THE STATE OF CALIFORNIA. LGAM AND ITS REPRESENTATIVES ARE IN COMPLIANCE WITH THE CURRENT REGISTRATION AND NOTICE FILING REQUIREMENTS IMPOSED UPON REGISTERED INVESTMENT ADVISERS BY THOSE STATES IN WHICH LGAM MAINTAINS CLIENTS. LGAM MAY ONLY TRANSACT BUSINESS IN THOSE STATES IN WHICH IT IS NOTICED FILED, OR QUALIFIES FOR AN EXEMPTION OR EXCLUSION FROM NOTICE FILING REQUIREMENTS. ANY SUBSEQUENT, DIRECT COMMUNICATION BY LGAM WITH A PROSPECTIVE CLIENT SHALL BE CONDUCTED BY A REPRESENTATIVE THAT IS EITHER REGISTERED OR QUALIFIES FOR AN EXEMPTION OR EXCLUSION FROM REGISTRATION IN THE STATE WHERE THE PROSPECTIVE CLIENT RESIDES. FOR INFORMATION PERTAINING TO THE REGISTRATION STATUS OF LGAM, PLEASE CONTACT LGAM OR REFER TO THE INVESTMENT ADVISER PUBLIC DISCLOSURE WEB SITE (WWW.ADVISERINFO.SEC.GOV). FOR ADDITIONAL INFORMATION ABOUT LGAM, INCLUDING FEES AND SERVICES, SEND FOR OUR DISCLOSURE BROCHURE AS SET FORTH ON FORM ADV USING THE CONTACT INFORMATION HEREIN.