In a volatile environment like the one we find ourselves in today, we find that some of our clients feel as though they should make changes in their portfolios—even if just to take action. Implementing change can make people feel better in the moment, but often times in investing it's exactly the wrong thing to do. Our chief investment officer Jeremy DeGroot said it best in the conclusion of his most recent quarterly commentary:
As a long-term investor, trying to time market tops and bottoms is a fool's errand. The evidence is overwhelming that most investors diminish their long-term returns trying to do so. They are more likely to chase the market up and down, and get whipsawed, buying high and selling low.
Market timing, while tempting, involves getting two nearly impossible decisions right: when to sell and when to get back in.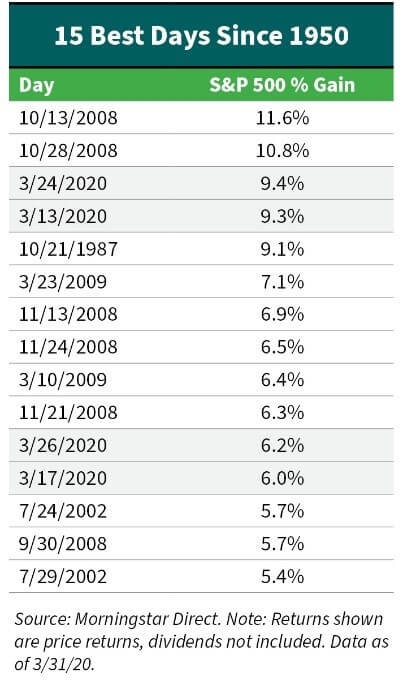 Missing the Best Days
The table to the right shows that the 15 best days for the S&P 500. Surprisingly, all of them occurred within bear markets, not bull markets as you might expect. That is, the big upturns in the stock market can happen during times when it's hardest to remain invested or tempting to get out of the market and wait for better days. Looking at these dates, you'll find the who's who of dark times for the stock market: the 2008 financial crisis, the dot-com crash, the Black Monday crash of 1987. A handful of these best days happened in the first quarter of 2020, which by any definition was historically bad.
By trying to miss the worst days, investors are very likely to miss the best days. In studies of behavioral finance, "recency bias" suggests that someone's most recent experience has the greatest influence on their decisions. As such, investors tend to sell after a meaningful market selloff and buy after a market rally.
Missing just the 10 best days (out of more than 17,500 trading days since 1950) has a huge long-term effect on a portfolio. For example, an investor who invested $10,000 in the S&P 500 in 1950 would have gained 7.5% annualized and finished with a portfolio value of more than $1.5 million (as of 3/31/2020) if they had remained fully invested (not including dividends). The final portfolio value for an investor that missed the 10 best days is much, much lower—just shy of $700,000.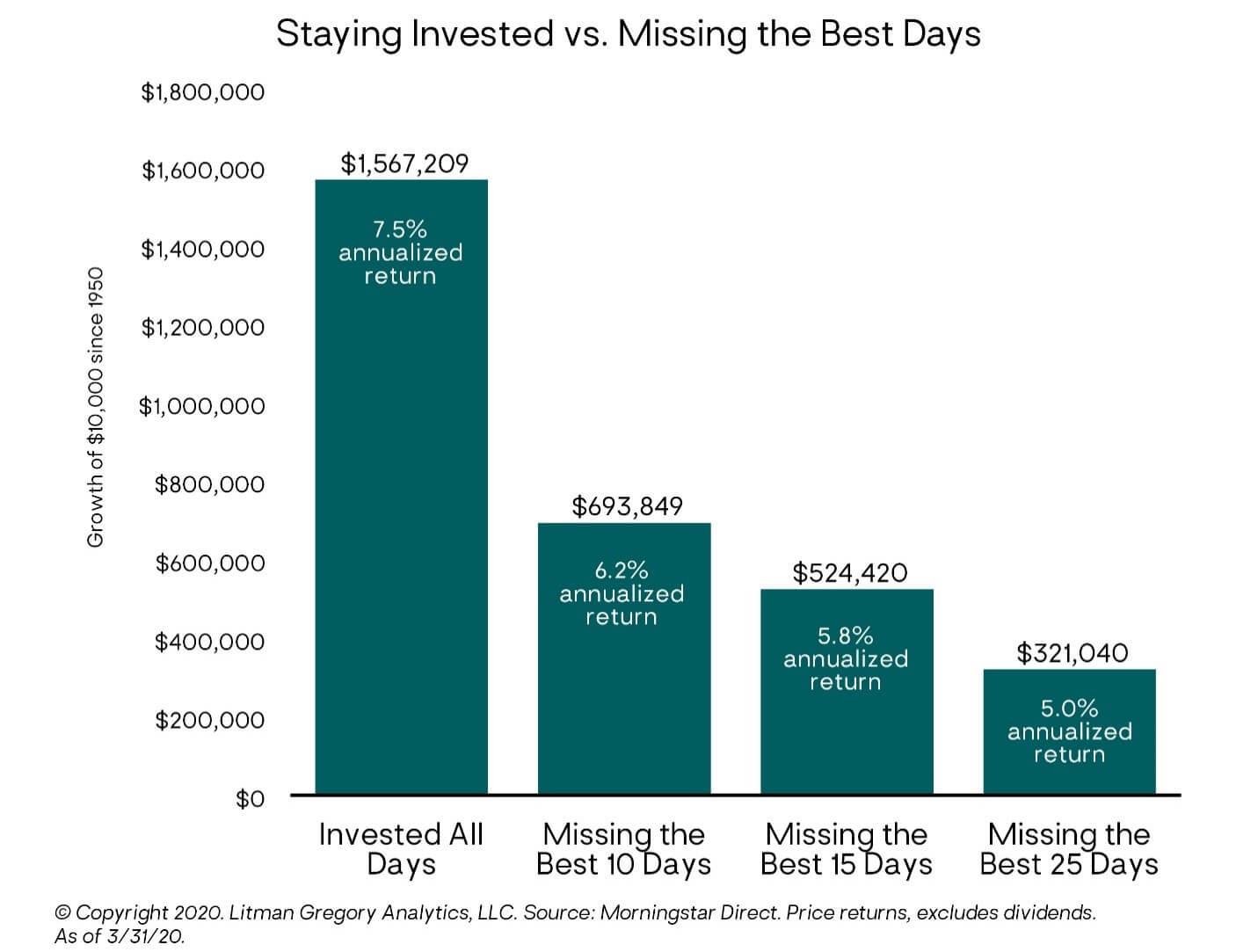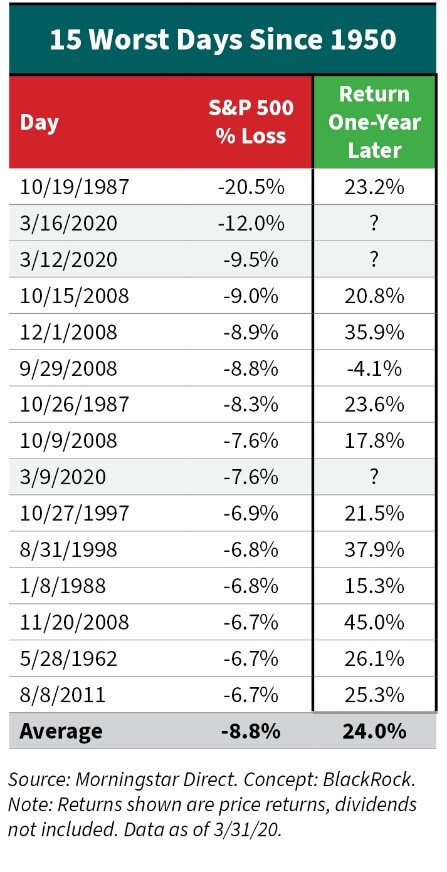 Now it is unlikely an investor will only miss the best days if they sell in an attempt to time the market. They might also be able to miss some of the historically bad days. However, the cautionary tale of attempting to time the market is the same: There can be a huge cost to pay if the market swings to the upside while you're on the sidelines. It would take exceptional timing skills to get in and out of the market perfectly, particularly since it needs to be done in short order given the market's best and worst days tend to cluster close to one another. Staying the course is the best plan of action during periods of severe market stress. There is an old investing adage: "Time in the market beats timing the market."
Owning stocks on historically bad days can be unsettling, but outcomes over the next year tend to be favorable. Investment industry giant BlackRock recently published a table showing one-year returns following the worst days for the S&P 500. The average one-year return after a historically bad day has been 24%. And there has only been one instance of a negative return.
Staying Invested, Staying Disciplined, Taking Advantage
One of the important benefits of working with us as your wealth advisor is that we can help you manage your financial situation in a holistic way, which will enable you to stay true to your long-term investment strategy guidelines and discipline. This is true both for your existing investments as well as any new investments you plan to make over time. In that process we can help you resist the urge to sell out of equities during a downturn, only to then have to try to decide when to jump back in to catch the rebound. On the contrary, we will help you stay invested, at a reasonable allocation level, which is the only sure-fire way to capture a recovery in prices. What's more, we can prudently and incrementally add to stocks when their prices become more attractive, and their forward-looking returns look better. With this strategy we hope to take advantage of a volatile market environment and possibly catch some of the best prices in the cycle. This is one of the best ways for us to support the longer-term goal of bolstering your financial situation in the years to come.
If you have any questions or would like to discuss your individual portfolio and situation, please do not hesitate to reach out to your Litman Gregory advisor for a more thorough and personal discussion.
—Litman Gregory Investment Team (4/10/20)
The information contained herein does not provide investment advice, should not be construed as personalized investment advice and is not an offer to sell a security or a solicitation of an offer, or a recommendation, to buy or sell a security. The statements, information, and opinions contained herein are solely those of Litman Gregory Asset Management, LLC and are subject to change without notice. There is no agreement or understanding that Litman Gregory Asset Management, LLC will provide individual advice to any investor or advisor client in receipt of this document. Investments in securities involve the risk of loss and may not be suitable for all investors. past performance is no guarantee of future results. For additional information about Litman Gregory Asset Management, LLC please consult the Firm's Form ADV disclosure documents, the most recent versions of which are available on the SEC's Investment Adviser Public Disclosure website (www.adviserinfo.sec.gov) and may otherwise be made available upon written request.