As expected, this year's presidential election results arrived later than usual. Uncertainty remained the day after—and the day after that. But after the following weekend, former Vice President Joe Biden was widely acknowledged as the President-elect. And it looks likely there will continue to be a split Congress. The U.S. stock market jumped the day after the election—before there was a clear winner. In fact, the S&P 500 Index had its best post-election day since 1952 (see the chart below). With election uncertainty still remaining, COVID-19 cases surging, and an economic recovery slowing, you can be forgiven for scratching your head a bit in seeing this response from investors.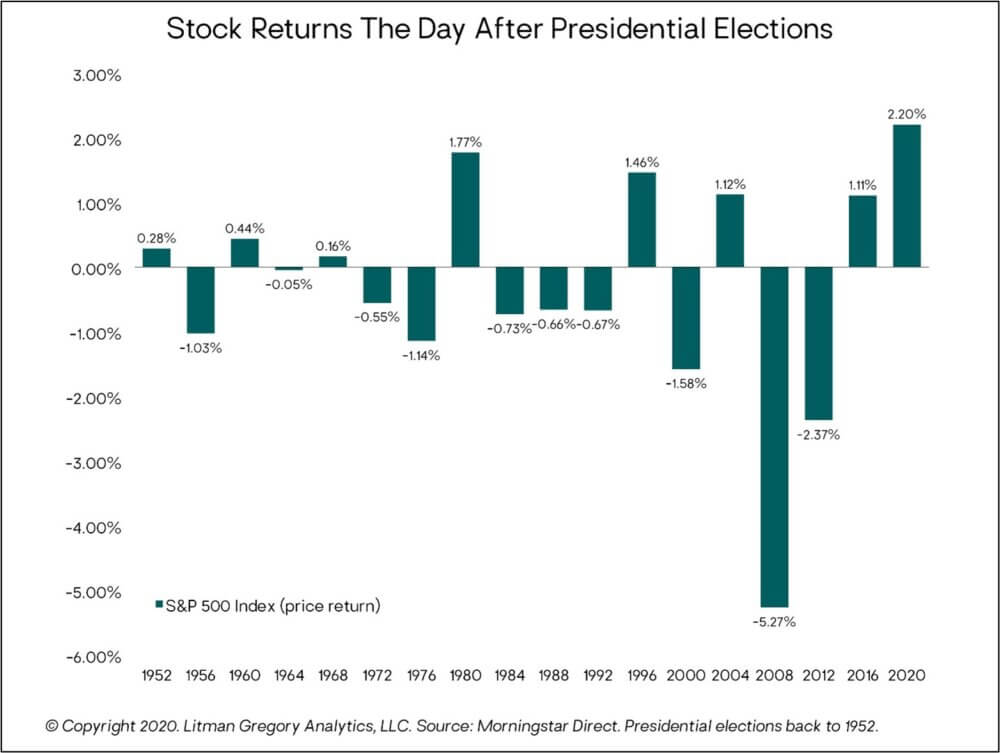 The immediate market reaction bears some explaining: Strong market moves generally suggest the market has been surprised. In this case, it seems investors had been pricing in a higher probability of Democrats winning a unified government—a so-called blue sweep. Biden's stated tax policies would hit corporate profits, and he has promised other far-ranging policy changes. Markets don't typically relish dramatic change of any kind, so stocks were trading lower, reflecting the market's collective view of the future. But with the Republican Senate likely to remain a check on power, an aggressive Democratic legislative agenda is likely off the table. Thus, a split Congress was seen as a positive by Wall Street. Part of the market's reaction likely derived from this assessment. Also, the worst fears of a contested election and serious legal challenges to the result have, so far, not come to pass.
We, and most other investors, would not have guessed the market would have such a strong response, regardless of the election result. It just goes to show that even if you can predict the outcome of an event like an election, you can still get the prediction of how the market will react wrong. As we said in our pre-election message to clients:
For us to believe there is a reason to change our overall portfolio positioning stemming from a particular election outcome, several things must be true. We'd need to believe we have an edge and high conviction in our ability to assess the likely outcome better than the market consensus. Our view would also have to be materially different from the consensus view. And we'd need to have conviction that our divergent election view would clearly translate into a specific investment outcome. But history tells us that the linkage between an election result and a market impact is not always clear.
This is why we are not willing to position portfolios around an election result or any single event. There are too many other variables that impact investment returns. In our analysis, we focus on the fundamentals and valuations that matter most long term. And we construct portfolios to be resilient across a wide range of possible macro outcomes that could play out over the next few years, not days or weeks, regardless of the outcome of a particular election.
Over 30-plus years of managing money for clients, we've developed a healthy respect for the short-term unpredictability of financial markets. We have much greater confidence in our long-term investment views and allocate our clients' portfolios accordingly.
Over the next several months, the trajectory of the markets, the economy, and our society as a whole will remain highly dependent on the path of COVID-19 and our response to it. But there have been positive developments just in the last week. Strongly positive vaccine news was announced, giving a further boost to global stocks and economic forecasts. And if political agreement can be obtained, an additional stimulus package could come before year-end and help individuals and the economy until COVID-19 is controlled. Of course, there may also be surprises coming out of a lame-duck legislative session in the next two months. As long-term investors, we always try to take a balanced view of the risks and opportunities.
We appreciate the trust our clients place in us, especially during these challenging times. We encourage you to reach out to our advisory team if you have questions about your portfolio or want to discuss recent market events.
Future policy changes, or the lack thereof, may have important ramifications not only for our analysis of certain asset classes but also for individual financial planning considerations. To address current planning opportunities, we are hosting a year-end planning webinar for clients on November 19. Register to join us >
This newsletter is limited to the dissemination of general information pertaining to Litman Gregory Asset Management, LLC ("LGAM"), including information about LGAM's investment advisory services, investment philosophy, and general economic market conditions. This communication contains general information that is not suitable for everyone. The information contained herein should not be construed as personalized investment advice, and should not be considered as a solicitation to buy or sell any security or engage in a particular investment strategy. Nothing herein should be construed as legal or tax advice, and you should consult with a qualified attorney or tax professional before taking any action. Information presented herein is subject to change without notice. Past performance is no guarantee of future results, and there is no guarantee that the views and opinions expressed in this newsletter will come to pass. Individual client needs, asset allocations, and investment strategies differ based on a variety of factors. Any reference to a market index is included for illustrative purposes only, as it is not possible to directly invest in an index. Indices are unmanaged, hypothetical vehicles that serve as market indicators and do not account for the deduction of management feeds or transaction costs generally associated with investable products, which otherwise have the effect of reducing the performance of an actual investment portfolio.
LGAM is an SEC registered investment adviser with its principal place of business in the state of California. LGAM and its representatives are in compliance with the current registration and notice filing requirements imposed upon registered investment advisers by those states in which LGAM maintains clients. LGAM may only transact business in those states in which it is noticed filed, or qualifies for an exemption or exclusion from notice filing requirements. Any subsequent, direct communication by LGAM with a prospective client shall be conducted by a representative that is either registered or qualifies for an exemption or exclusion from registration in the state where the prospective client resides. For information pertaining to the registration status of LGAM, please contact LGAM or refer to the investment adviser public disclosure web site (www.adviserinfo.sec.gov). For additional information about LGAM, including fees and services, send for our disclosure brochure as set forth on Form ADV using the contact information herein.