In May, we shared a piece called "Why Is the Market Going Up When Economic News Looks Grim?" In it we tried to explain the curious situation where stocks were rebounding as unemployment was rising to historic levels and economists were forecasting a huge drop in economic activity. Since then, the market has rallied even further. The Bespoke Investment Group recently shared a wild statistic: the S&P 500 Index had its best 50-day rally on record since the March low—39.3%. The S&P is now flat since the start of the year, erasing the 30%-plus decline in February/March.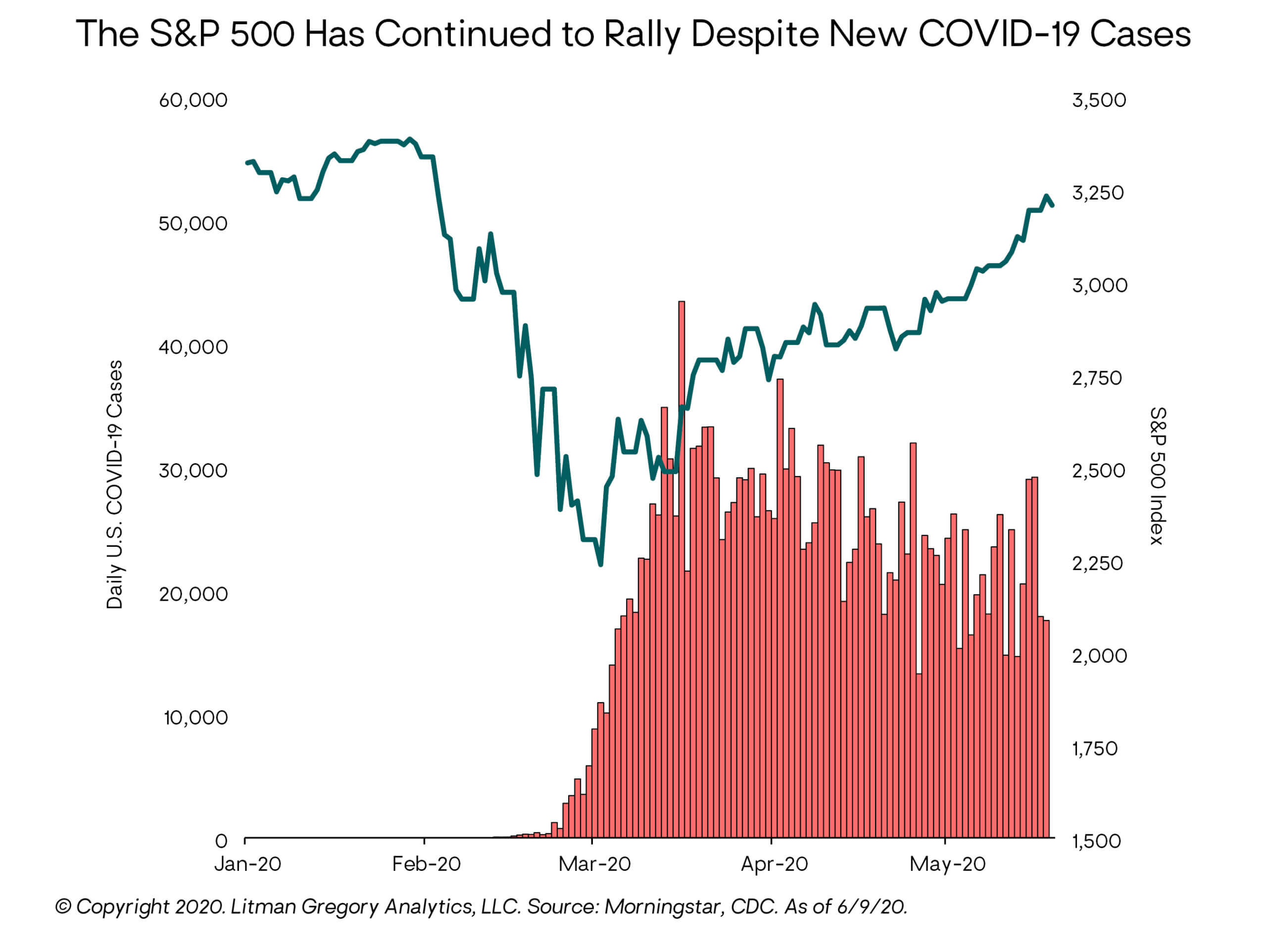 Through all this, stocks seem to be looking past not only terrible economic data, but also the continued spread of COVID-19 in the United States. Daily U.S. cases of COVID-19 have certainly declined since the peak in March, but not nearly as dramatically as they have in China and many countries in Europe. See the chart below comparing the United States and Italy, one of the hardest–hit in Europe initially. Daily new cases are down by just over half in the United States since the peak, while two weeks ago, cases were down 95% in Italy from the peak there (Italy is two weeks ahead of the United States in terms of the virus outbreak timeline). 
As of the beginning of June, the United States is still seeing around 20,000 new cases a day. Yet equity investors have also taken this in stride, especially in the United States. It appears they are assuming a best-case scenario in which COVID-19 is eventually contained and a damaging second wave of infections is avoided.  
And yet as states reopen (some without meeting CDC guidelines), a continued downward trajectory for cases and deaths is not a given. Moreover, the lingering economic effects of the shutdown periods show in very high unemployment and financial duress for many. And, as we write this, we are witnessing nationwide protests and the demand for structural societal change.  
So we understand that it may seem very odd that stocks are continuing to go up. And indeed, they may retrench for a period (it's always good to be prepared for a downturn). Nonetheless, for now this divergence reinforces the important investment lesson we highlighted last month: The market is forward-looking and prices reflect a consensus view about the future. So far, investors expect better days ahead. 
If you have any questions or would like to discuss your individual portfolio, please reach out to your Litman Gregory advisor for a more thorough discussion. 
—Litman Gregory Investment Team 
This newsletter is limited to the dissemination of general information pertaining to Litman Gregory Asset Management, LLC ("LGAM"), including information about LGAM's investment advisory services, investment philosophy, and general economic market conditions. This communication contains general information that is not suitable for everyone. The information contained herein should not be construed as personalized investment 
advice, and
 should not be considered as a solicitation to buy or sell any security or engage in a particular investment strategy. Nothing herein should be construed as legal or tax advice, and you should consult with a qualified attorney or tax professional before taking any action. Information presented herein is subject to change without notice. Past performance is no guarantee of future results, and there is no guarantee that the views and opinions expressed in this newsletter will come to pass. Individual client needs, asset allocations, and investment strategies differ based on a variety of factors. Any reference to a market index is included for illustrative purposes only, as it is not possible to directly invest in an index. Indices are unmanaged, hypothetical vehicles that serve as market indicators and do not account for the deduction of management feeds or transaction costs generally associated with investable products, which otherwise have the effect of reducing the performance of an actual investment portfolio. 
LGAM is an SEC registered investment adviser with its principal place of business in the state of California. LGAM and its representatives 
are in compliance with
 the current registration and notice filing requirements imposed upon registered investment advisers by those states in which LGAM maintains clients. LGAM may only transact business in those states in which it is noticed 
filed, or
 qualifies for an exemption or exclusion from notice filing requirements. Any subsequent, direct communication by LGAM with a prospective client shall be conducted by a representative that is either registered or qualifies for an exemption or exclusion from registration in the state where the prospective client resides. For information pertaining to the registration status of LGAM, please contact LGAM or refer to the investment adviser public disclosure web site (www.adviserinfo.sec.gov). For additional information about LGAM, including fees and services, send for our disclosure brochure as set forth on Form ADV using the contact information herein.