In 2018, we launched our new Client Portal which puts portfolio information at your fingertips. This tool is designed to augment our advisors' efforts to give you greater access and transparency on progress toward your goals. 
The portal provides secure, real-time information on your portfolio data, asset allocation, and investment holdings. It also offers a document vault for streamlined document sharing with your advisor and other trusted professionals without compromising your privacy or security.
Here are some sample views of the portal, showing a preview of the information available in real time: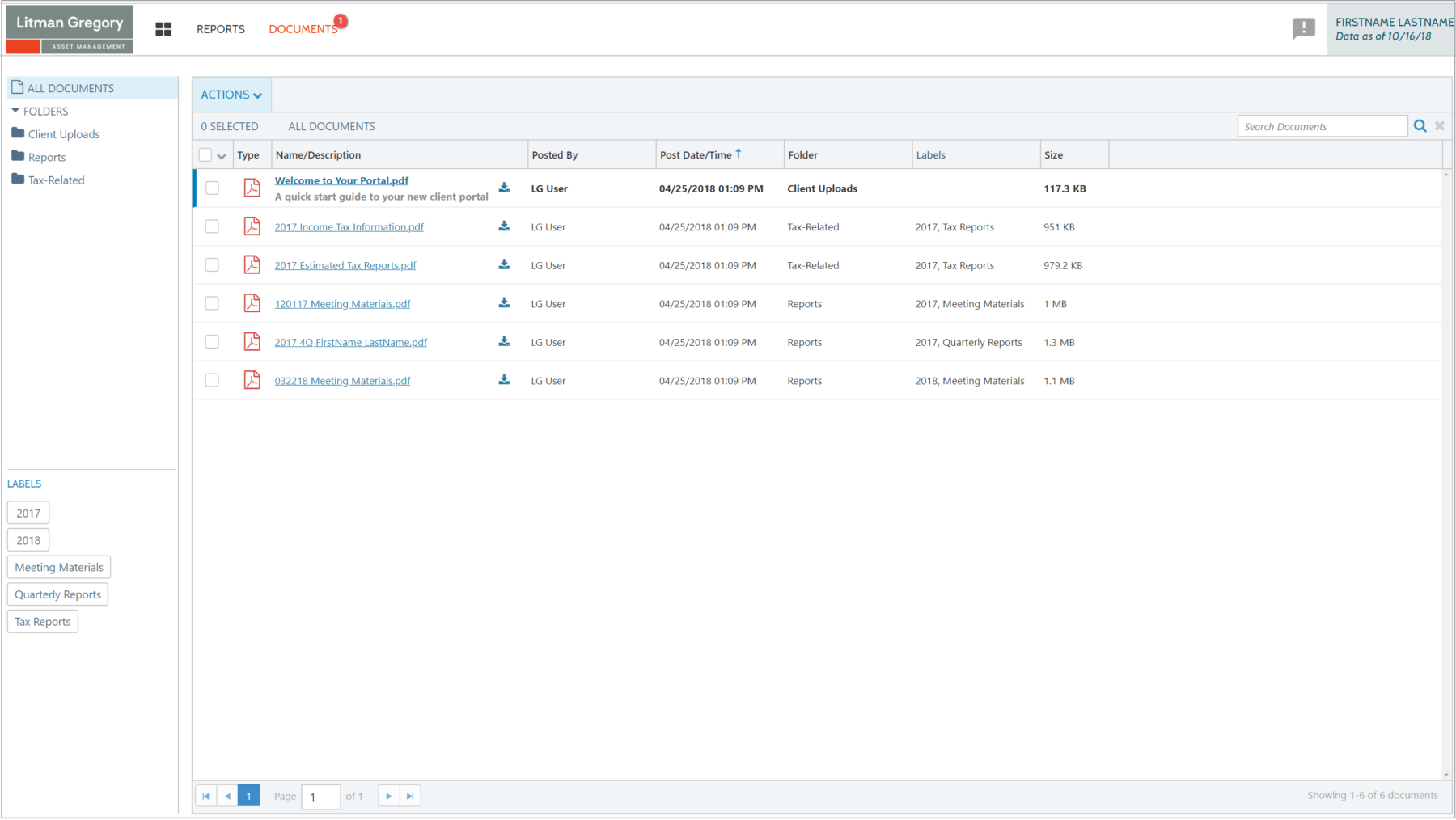 If you have not yet activated your Client Portal account, we encourage you to speak with our team for instructions on how to do this so that you can begin accessing on-demand data for your portfolio(s) and uploading important documents.
How can I access the portal?
The Client Portal is accessible via the "Client Login" button at the top of our website. Once you have activated your new portal account, you'll be able to log in anytime to view materials and real-time data. We are happy to offer an overview of the portal to help you get started.
Will my preferred delivery method change?  
Activating your portal account will not change your delivery method. You will continue to receive documents from Litman Gregory using your preferred delivery method; electronic or US mail. If you currently receive documents by US mail and would like to enroll in electronic delivery, feel free to reach out to your team or simply reply to this email.   
How can I access historical documents? 
All documents that had been uploaded to our previous client portal accounts have been archived. If you need a copy of any past document, including those you may have uploaded, please reach out to our team.  
Our technology strategy is centered around interaction, access and convenience. 
Our dedication to your peace of mind is absolute and extends across the entire team. We continue to enhance our digital capabilities to offer new ways for you to access your portfolio information, exchange secure documents with us, and connect with your Litman Gregory team. 
More recently, we began offering video conference meetings by request. When an in-person meeting isn't an option, consider scheduling a video conference with your advisor. Going this route allows you to continue to receive the same high-level of service from a location that is convenient for you. 
DISCLOSURE
This report is solely for informational purposes and shall not constitute an offer to sell or the solicitation to buy securities. The opinions expressed herein represent the current views of the author(s) at the time of publication and are provided for limited purposes, are not definitive investment advice, and should not be relied on as such.